Description
Off-grid Solar System, 3KVA Inverter.Charger, 2KW Solar, 5.8KWh Lead Carbon Battery
PK18.01
For a small off-grid residence, using around 3-5KWh per day.
3KVA Victron MultiplusII Inverter-Charger (generator input)
2KW Trina Solar Panels (10 year/25 year warranty)
5.8KWh Lead-Carbon batteries (extended life over AGM)
High Quality cables, fuses, controllers and off-grid signage/documentation
We locate a local installer, assist you to get solar rebates, and offer free support for 1 year
What you get when you buy this package: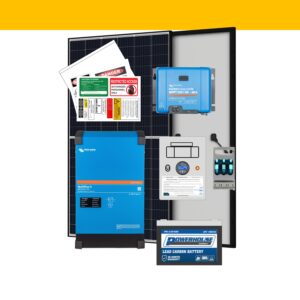 ecoCool's perfectly balanced and tuned systems are the product of our work with you, to:
Take your electrical loads as you plan to live, and define the energy storage and generation needed,
Creative thought about those loads, to diminish, alternatively power, or shifted them to optimum generation times
And application of the Australian Standards rules to provide a system perfectly balanced to those constraints.
Start now with a 35% deposit, and we will start the system design process:
First step: ecoCool reviews your loads, to ensure you have the right system
Second step: we supply the right system as an install package to you
Third step: we get your system installed by the right installer, and get your rebates refunded to you (you pay the installer)
If you are ready to go, just "Add to Cart", and checkout.  We will be in touch to start the process.
Or you can send us your details, and we offer free off-grid residence analysis, with a detailed load analysis, before you buy.
PK18.01 System Arrangement Drawing
Installation Package Diagram
* Approx. 5-7 days lead-time