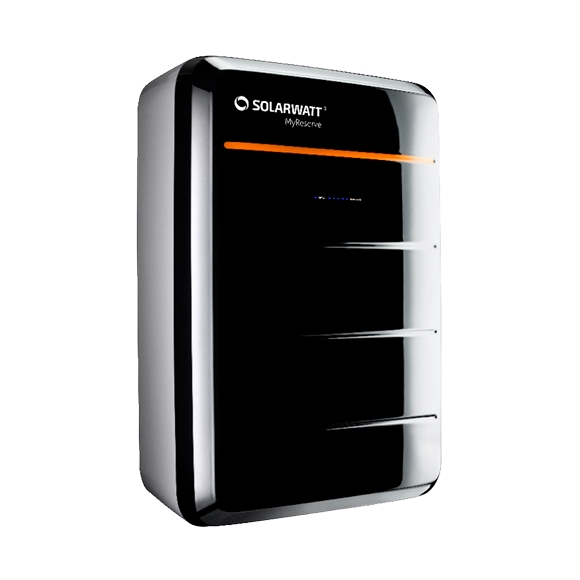 The Key benefits of the My Reserve 500 system are:
It is standalone, with its own internal power conversion, so no inverter/charger to buy;
It has a unique 'behind the inverter" location, which increases efficiency to over 95%, better than most battery/inverter combinations; and
It comes standard with home energy monitoring, allowing energy monitoring via a web portal, and programmable actuation of electrical loads like pool pumps.
The key features are its 4.4kWH battery size, the fact that 100% of that is usable power, and lastly, the European manufacturer is well known, and gives a long 10 year warranty, so you can be fairly sure it will be reliable and last well past 10 years in normal use. The full specifications can be viewed in SolarWatt's brochure. See some installed systems here.
Home battery systems are about self-consumption of Solar power
Many home owners who have solar power installed, are looking to install a home battery system, to store and self-consume solar power, rather than feed back into the grid to get the often low FIT rate credit. The problem can be framed as follows.
Home owners prefer battery storage for solar, because they like to store energy generated from roof-top solar systems for later use at night, when the sun is not shining. Simply put, to smooth out the on and off nature of rooftop generated solar power. But using a battery to store solar power means that home owners don't receive any credit at their "feed-in" tariff rate, for that generated solar power they stored instead.
When you use stored solar energy later, such that the feed-in tariff is sacrificed (store instead of sending to grid), you emphasise what is called self-consumption. Self-consumption saves you power costs at night, because using stored battery power eliminates the higher cost of grid power (say 25c).
You instead have a low cost: you sacrifice the value of power you could have sold back to grid during the day (~10c). Put more simply, if you store solar in a battery during the day, you lose the 10c feed-in tariff.
However, when you use that stored battery power at night, instead of paying 25c, you gain a 15c benefit on each kWH you stored and self-consumed. (25c/kWH – 10c FIT = 15c saving for each kWH self-consumed) And that saving adds up each day, and each quarter.
And those cost savings, when accumulated over time, mean that a moderate cost battery storage system like the SolarWAtt My Reserve 500, can be paid for by energy bill savings within 3-4 years. See ecoCool's Solar Insight Excel spreadsheet to do a quick calculation on your own use.
The SolarWatt My Reserve 500 is great value people with 2 to 4kW solar PV systems
The fact that the My Reserve 500 is "standalone", means that it effectively plugs in, without any additional battery inverter.  For example if you buy an LG Chem battery, it contains only a BMS, but still needs a battery inverter to store power, like SMA's Sunny Boy Storage 2.5.  While that system (a 7kWH LG battery & SMA SBS 2.5) costs around $8,500 to $9,000 before installation, the SolarWatt My reserve is much cheaper, at $5073, in ecoCool's store.  And because it is only one connection not two, it should be a little cheaper to install, too.  Even allowing for the extra capacity, the SolarWatt battery has a lower cost per kWH: $1152/kWH vs $1285/kWH, or about 10% cheaper, even before considering the quicker install time.
Being "behind the inverter", (which means it sits between the solar panels & the solar inverter) instead of in front, means that the MyReseve 500 takes DC power straight from the solar panels, and either runs it through a bypass (99.8% efficiency), or converts it to a voltage suitable for the battery.  On the other side going to the inverter, the conversion is still DC to DC, rather than, as is usual with home battery systems DC to AC, which means that the "round trip" efficiency, or the total efficiency after storage and discharge to the AC circuit of the home, remains above 95%, which is high by comparison to most systems.  The reason is that for say the SMA Sunny Boy Storage, that conversion is always AC to DC, then DC to AC, making it slightly less efficient.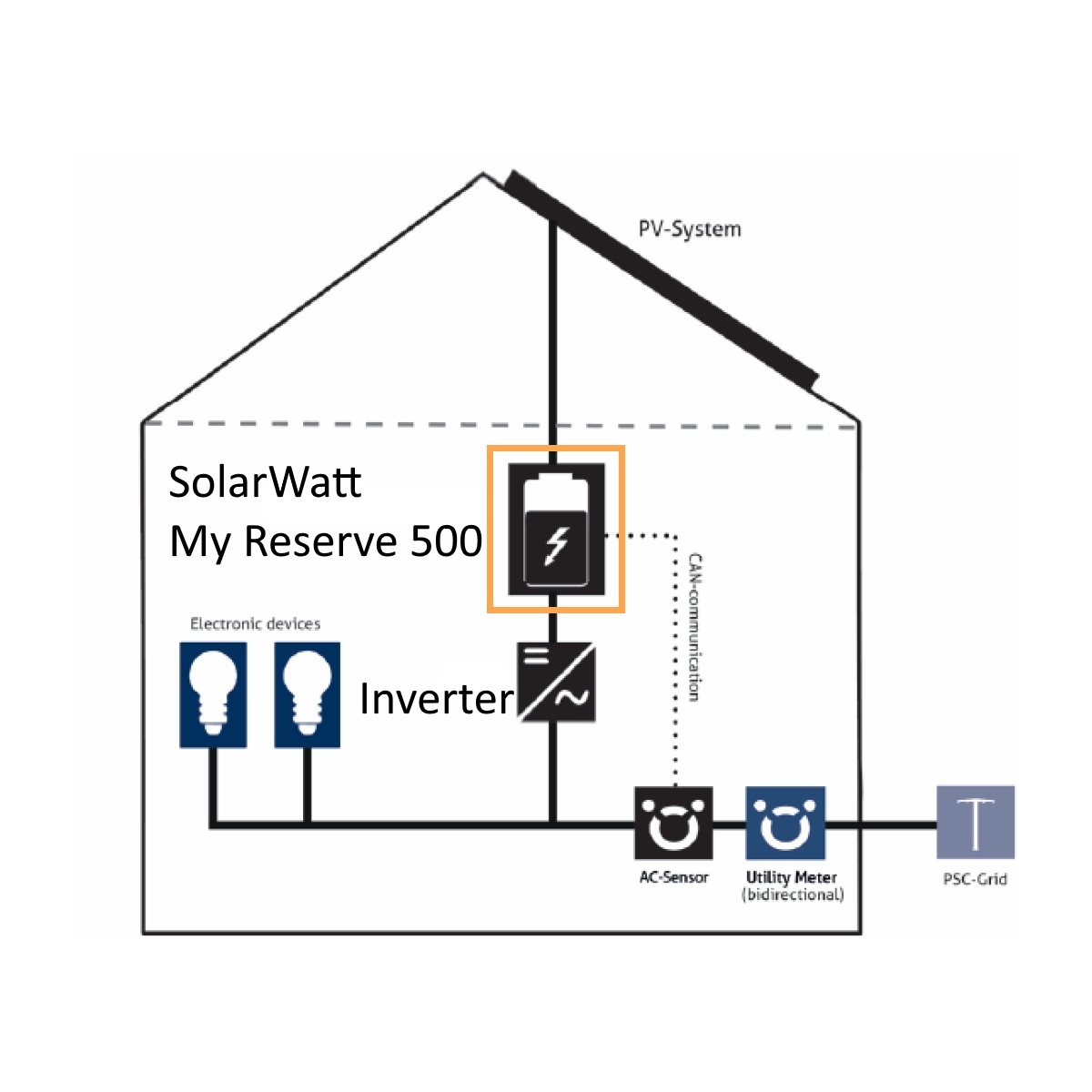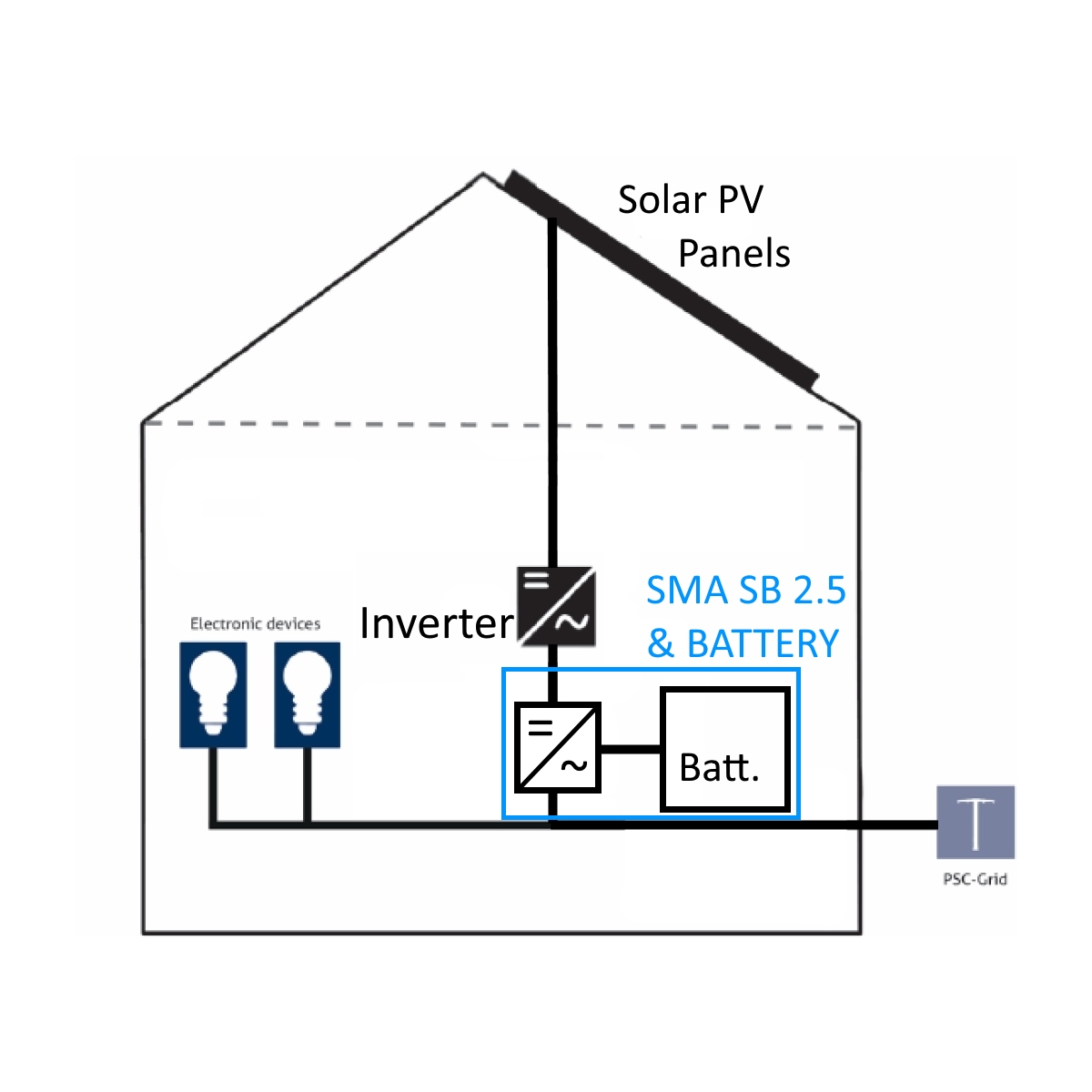 Effectively, the My Reserve system cuts out an extra conversion, making it more efficient.  Very few systems could match that efficiency, most are not "behind the inverter".
Lastly, one of the enduring issues in solar equipment is the ability to understand the real benefit that the system provides, and to have some way of monitoring, even employing the benefits.  Look at the Energy Manager interface below, and you can see at a glance key performance indicators like overall solar power generation, over the day, and in context with comparative information over time.
The benefit of that alone is very significant: a home owner can start to see when, how much and in what pattern solar energy is harvested.  And that allows the Energy Manager to be set-up to modulate household electricity loads, to take advantage of high solar intake during the day, or to sequence loads before, during or after the battery is charged during solar hours.  Not only can you self-consume much of your own solar power at night, harvested during the day, but you can also using the SolarWatt system, actually turn on and off, or modulate loads like a pool pump or washing, around free solar energy availability, even taking into consideration clouding.
That means you could save even more money than by simply shifting your solar energy harvest to self-consumption at night time.  You can fundamentally alter your energy use, managing load times and durations, in order to achieve lean power use, and maximise the benefit of a home battery.
All up, the SolarWatt My Reserve 500 is an excellent home battery system, offering a great warranty, from a European brand, (it won the German Design Award in 2016) with one of the lowest possible price/payback period combinations of any residential battery system, and added features to save even more money.