Description
Off-grid Solar System, 3.2KW Solar, 5KVA Inverter, 11.5KWh Battery
PK18.12
For a small sized residence, using about 6-15KWh/day:
5KVA Victron MultiplusII Inverter-Charger (generator input)
3.2KW Jinko Solar Panels (10 year Product/25 year Output warranty)
Victron Cerbo Controller
11.5KWh Lead carbon batteries
High Quality cables, fuses, controllers and off-grid signage & documentation
Self-installed*, ecoCool installed**, or Local Partner installed***
Datasheet & Equipment Specifications
* Self-installed, but within limits set by local rules, including all electrical work by qualified sparky    ** ecoCool install: Price of system, plus install, minus rebate cost, call for quote    *** Partner install, buy, then we can assist them to install, issue you rebate if applicable
What you get when you buy this package: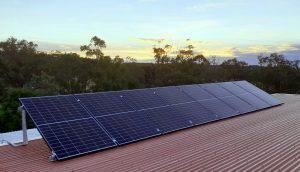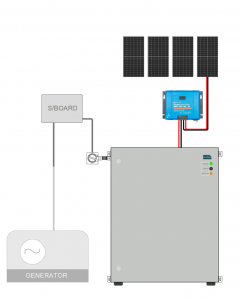 ..
Warranties, Terms & Conditions:
For supply and project management: Deposit 35%, balance to be paid before supply, or as quoted. Installation options as above, or as quoted. If applicable, ecoCool will obtain the RECS rebate on your behalf, and pay you. For estimate of the RECS rebate see https://www.rec-registry.gov.au/rec-registry/app/calculators/sgu-stc-calculator, certificate value is variable: historically $35-38. Solar Rebate requires CEC approved off-grid installer, with off-grid accreditation. See https://www.cleanenergycouncil.org.au/consumers/buying-solar/find-an-installer
Warranty – to be standard Manufacturers Warranty: 5+5 years for Fronius Inverters & 5 years for Victron, 5/10 years for lithium batteries (cycle life warranty), 10yr Product /25yr Output for Trina panels, or see Warranties details of specific product. See final quotes for Terms & Conditions of supply of equipment and installations. All 240V AC work to be completed by a qualified electrician (NOT DIY), except as allowed by local rules.
If you are ready to go, just "Add to Cart", and checkout.  We will be in touch to start the process.
Or you can send us your details, and we offer free off-grid residence analysis, with a detailed load analysis, before you buy.
* Approx. 5-10 days lead-time